Should we be celebrating our 25th year?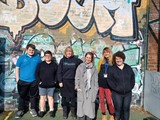 As we know from our work supporting children, teens and young adults, if the organisation were a person, it would have hit full neurological adulthood. 25 is the real end of adolescence, not 18.
It takes this long for our brains to complete the complex processes of maturing, re-coating each neuron with a protein called myelin and trimming off excess connections. It's when we tend to stop feeling emotions so intensely, taking risks and being impulsive.
I don't know the exact date in 1998 the charity was created, part of a national network of a dozen or so Mentoring Pluses formed out of Crime Concern (tough on crime, tough on the causes of crime). So we are celebrating all year.
That's if celebrating is the right word. The mission of every charity should really be getting to the point when we're not needed any more. We are certainly not there.
But as we shared with 80 or so lovely supporters, volunteers, partners and young people at our 25th anniversary event last week, there is plenty to celebrate.
There's the huge impact on young lives of nearly 2,000 volunteers over that time, helping young people feel heard, feel happier and more hopeful, and more able to thrive in education.
There's being part of a community where children and young people are being supported – and the strengths, resilience, insight and humour of young people themselves.
There's the help of others who support us, from referrers and partners to fundraisers and donors. Without them, this work would not be possible.
So does the 25 year old Mentoring Plus have to be all grown up now?
Our practice supporting children and young people is designed to be playful and positive, and I hope it always will be. But maybe it is time to take our place as a mature organisation and use our collective voice to campaign more loudly for a better world for them.
Children and young people are facing challenges that didn't even exist 25 years ago. Be under no illusion: needs are sky high. We need far better understanding of educational needs, sensory processing difficulties and existential anxieties this generation are coping with. And far more resources to support them, in our service, in others and most of all in schools, trying their best in tough circumstances.
What Mentoring Plus needs is the support of its community to field volunteer mentors and significant, sustained ongoing funding.
As it is, our biggest ambition is just to be there for the next generation of anxious, lonely or marginalised children and young people. We ask those who support us now, and those who haven't yet, to join us on this mission and connect us with this vital funding.
Like a child, adolescent or 25 year old, we need hope to thrive. If I'm having a dark moment about our ability to meet these spiralling needs and costs, I am filled with hope when I read feedback from a young person about how their mentor makes them feel. Or when I hear mentors and mentees talking and laughing together at Riverside Youth Hub.