Peer Mentoring with Kingswood School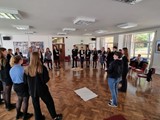 Kingswood Students Train to be Peer Mentors
Peer Mentoring involves older students such as sixth formers, who are trained and supported to offer mentoring to their younger peers, often year 7s, and Mentoring Plus provide training  and support to manage the processes such as screening, matching, supervision and impact evaluation. Young people are often well placed to undertake the mentoring work with their peers and school staff regularly express how impressed they are with engagement both in the training and the mentoring.
Kev Long,  Head of Practice at Mentoring Plus said "As a trainer who has experience educating adults on how to work with young people utilising a young person-centred approach, I have been impressed by how astute the young people we have trained are. They have asked questions and made points that have really made us think. Each time we train a new group of young peer mentors, we discover more. It can really demonstrate how emotionally literate and sharp these young people are."
Kingswood School, an Independent school in Bath recently approached Mentoring Plus as they wanted to offer this support to year 6s in neighbouring primary school St Andrew's.
Assistant Head, Peter MacDonald said "Mentoring Plus carries out such important work in BANES, and we have been really impressed with the model of mentoring support that they offer. We wanted to embark on a peer mentoring programme as this is such a wonderful way for our young adults to support and walk alongside their younger peers in their final year of primary school. Our students are delighted to be able to direct their skills and talents in this way and so give something back to other young people in the community."
Feedback from students about the peer mentor training included 'lots of useful information and the scenarios we covered were good practice, it was a lot of fun and the people who ran it were very supportive'