John wins a Community Award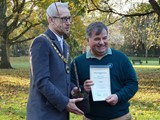 John receiving his community award
John who has volunteered for Mentoring Plus over the last 10 years has been recognised as a 'Volunteer of the Year' at the recent BANES Community Awards. John got to plant a tree and the plaque has his name on it. 
He has selflessly provided 460 mentoring sessions (1150 hours) over 10 years to support young people and families in Bath & North East Somerset. Through his calm, authentic, genuine approach, he has engaged young people who have struggled to participate with other services. He provides a positive role model and through his understanding and own experiences, can support young people with challenges they are facing. He has enabled young people and families to help them feel safe, heard and hopeful. In John's own words, he says his relationships with his mentees are 'effortless but priceless'. He offers young people the opportunity to have fun, feel listened to and follow their positive interests. 
We are delighted John has been recognised for his years of volunteering with us - he continues to volunteer for us and give up his time to make a real difference to local young people.