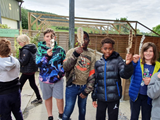 The difference we make to families we support
Our volunteer mentoring can have such a positive impact on a young person that it really does make all the difference to us to hear direct from the family of a young person. We take on board all feedback and sometimes the changes are subtle and sometimes mentoring has made a substantial difference. Here's some families sharing their experience of volunteering mentoring and what it has meant to them.  
An amazing service. The Mentor was a perfect match for my daughter and over the last year I have seen my daughter grow more confident. She is now attending the gym, more interested in cooking, able to communicate with strangers and will complement and strike up conversations. This has been a massive turn around and we owe this all to the support we received from Mentoring plus.
Mentoring Plus has given us a wealth of recommendations for continuing further support now the mentoring has come to an end. Thank you so much for believing in my daughter and helping her we are forever grateful to the commitment and support we received from the service.
I cannot thank you enough for the support and mentoring you have given our son. He has absolutely loved having a mentor and enjoyed all his time with him. It has given him the feeling of something just for him which he was so desperate for and in need of. I don't have enough words for the joy it has given me to hear him chat enthusiastically about his time with his mentor and his own special time. Thank you all so much for the mentoring support for the incredible work you do enriching children's lives! You have made a huge difference to ours!