Bath MP visits Mentoring Plus at their riverside youth hub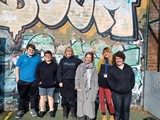 Bath MP meets youth reps
This year we are celebrating 25 years of inspiring young lives and supporting young people. Last week Wera Hobhouse came to visit us at our youth hub, she shared insightful disscussions with Ruth, our CEO and Becki, the Community Manager. She also met with three youth reps who talked about their experince and the life-changing positive impact that mentoring has had on them. 
Like many local charities, Mentoring Plus has seen charitable donations from individuals, businesses and organised events reduce since the disruption of Covid. Numbers of volunteers coming forward to train as mentors have also shrunk – both just at the time when the numbers of children and young people needing support have shot up.
Wera commented " "In the post-COVID climate, It is more important than ever that children's mental health services are helped to thrive. School gives us the opportunity for success, but every child will reach their full potential in different ways"
In recognition of our 25th anniversary and to help ensure we are around for the next 25 we are aiming to welcome 25 new companies and 25 new regular individual donors. If you are interested in becoming a supporter please get in contact.