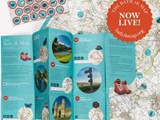 Join us on World Mental Health Day, Tuesday the 10th of October, for a 5k walk from the map with Off the Record and Annie Legge who developed the map as a tool to build community, encourage access to the outdoors and enable more time offline to support mental health and wellbeing. It has been beautifully illustrated by Bath Based illustrator Ellie Shipman. 
Find out more at bath5kmap.org
The Walk
We will meet from 10am at Manvers Street Baptist Church Open House Centre for an introduction to the map and a cup of tea or coffee to fuel you for the 5k walk. We aim to begin our walk just before 11am, setting off together to the official 5k start at Sydney Wharf. 
Taking in the suburb of Widcombe where the Kennet & Avon canal and Bath Deep Lock, the second deepest lock in the country, meets the River Avon. The walk climbs out past Prior Park Landscape Garden to join parts of the Skyline Walk with spectacular views back over the city.
Our walk will be led by Lucy Bartlett from Bathscape Partnership.
All donations from the walk and profits from sales of the Bath 5k map go to Mentoring Plus and Off The Record.