Tim Griffiths
Professional Mentor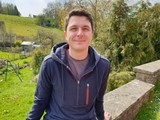 Responsibilities: To support young people to thrive by providing one to one mentoring, role modelling and the opportunity to build resilience. 
Previous experience: I am originally from North Wales. I'm a dedicated Dad of two wonderful children. I am a qualified youth worker and Thrive practitioner and I have been working with young people for over a decade. I also have a passion for sports and fitness and I am a qualified personal trainer. 
Likes Mentoring Plus because: The positive impact it has not only on children and young people but on the families and volunteers. 
Good at: Being active, trying new things, building relationships, and listening to others. 
Not so good at: Being at my laptop for a prolonged time.