Samantha Fountain
Practitioner – Professional Mentoring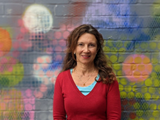 Responsibilities: I am in the lucky position at Mentoring Plus of helping young people to find their feet in life and embrace new opportunities. As well as being a professional mentor, I work with families and stakeholders in order to help young people negotiate life's challenges. I also have a role in mentoring the mentors; supplying training and helping with professional development to those that work here.
Previous Experience: I have been a secondary school teacher for over twenty years, in this country and in Germany. I have had taught History and the Social Sciences in large and busy educational environments and at Mentoring Plus I am able to focus on the welfare and well-being of the individual.
Like about Mentoring Plus: It is a charity dedicated to improving the lives of young people, which in the end results in building a healthier and happier community for the benefit of everyone in the area.
Good at: Seeing the funny side of life and advocating for other people. Wasting time outdoors, walking the family dog and enjoying the views.
Not so good at: Enclosed spaces, rooms without windows.