Rachel Gibbs
Finance Administrator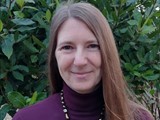 Responsibilities: Providing finance administrative support to all parts of the charity including invoicing, bill paying and cashflow.
Previous experience: 10 years of being employed and self-employed in bookkeeping roles for a number of local companies and accountants; and a software engineer many years ago!
Likes Mentoring Plus because: It is a great place to work with amazing adults supporting young people in many different ways.
Good at: I have an eye for detail (handy when working with figures)!
Not so good at: Being cold