Nick Clifford
Primary Practitioner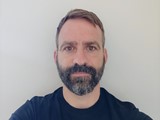 Responsibilities: I work with primary-aged children and once I learn what they want from the experience, I must use my judgement to partner them up with the perfect volunteer mentor. While the two of them are developing their own relationship, I work in the background to ensure that the whole experience is as positive as it possibly can be, supporting all parties so that everybody can reflect on how rewarding their year together has been.
Previous experience: I grew up in London and after various meanderings in Edinburgh, Kyoto and Cardiff, I started off my professional life as a sports journalist. Although it was fun, the work didn't make me feel that I was doing something worthwhile, so I retrained as a primary school teacher and taught in London and Somerset for the next 15 years. Over the years, most of my classes were in Year 3 but I taught from Year 2 all the way up to Year 6. 
Likes Mentoring Plus because: The overwhelming positivity and professionalism of the place. You don't have to be here too long before you witness how dedicated and committed the teams are to doing their very best for the young people with whom Mentoring Plus has become involved.
Good at: Listening to children and developing trusting relationships with them, playing a boardgame, reading and sharing a good book, getting away from it all outside. Embarrassing myself at Mentor Training by admitting my fondness for trashy TV.
Not so good at: Getting up in the morning and trying to function without coffee. Choosing optimistic books to read. And like so many other people here, remembering people's name for longer than three seconds. 
Support our work
Each young person we support has a different story to tell - each one as powerful as the next.