Meg Ely
Senior Practitioner - Professional Mentoring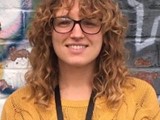 Responsibilities: I oversee the Professional Mentoring practitioners and mentors to positively engage our young people with their peers and community and assist them on their path to find their place in the world ! We work with a wide range 5-25. I also assist my colleagues with delivering training to peer mentors, offering advice and consultation within this. I am lucky enough to be a mentor too !
Previous experience: After graduating university, I have worked in a majority of the secondary schools in Bath, in various roles. I have been a Teaching Assistant, Learning Mentor, a Pastoral Support worker and an Education Welfare and Attendance Officer. While I enjoyed working with students, I realised my skills were best placed with face to face and active interaction with young people outside of school.
Likes Mentoring Plus because: We are young person centred! We recognise and value the importance of differences in young people and encourage them to realise their self-worth. It is really special to be part of a team who share the same vies.
Good at: Being silly, sarcasm, getting into exceptionally cold but swimmable water with no hesitations and listening to those who need to be heard.
Not so good at: Keeping my hair neat and numbers.
Support our work
Each young person we support has a different story to tell - each one as powerful as the next.