Mark De'Lisser
Professional Mentor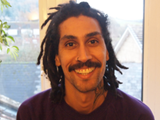 Responsibilities: To support young people to thrive by providing one to one mentoring, role modelling and the opportunity to build resilience
Previous Experience: After graduating from Bath Spa Uni, I spent a number of years bouncing around retail and hospitality jobs. However, I always knew that I wanted to work with children and young people in some capacity.
I have been lucky enough to be employed by some incredible organisation in Bath, namely the Black Families Education Support Group where I worked as the Supplementary School Coordinator, and then at the Bath Area Play Project as a Community Play Support Worker. In both of these roles I was able to work with a diverse range of children and young people both one to one and in groups.
Likes Mentoring Plus because: the needs of young people are at the core of everything that we do.
Good at: Listening, making people smile, writing poems and handstands
Not so good at: Maths and early mornings
Support our work
Each young person we support has a different story to tell - each one as powerful as the next.