Kev Long
Head of Practice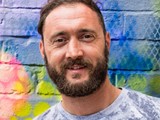 Responsibilities: Overseeing our practice provisions and professional relationships, including: SAFS, Volunteer mentoring, Professional Mentoring and Participation and to support Senior Practitioners in quality service delivery. I am also the Safeguarding Lead for the organisation.
Previous experience: I was a child of the forces so I grew up all over the place, but I've spent a majority of my time in Wiltshire where I have now settled. Several years' professional experience in a variety of roles including counselling and drug, alcohol, mental health and homelessness support. I'm also a qualified Addiction Therapist.
Likes Mentoring Plus because: We're focussing on solutions rather than problems!
Good at: Keeping an open mind and turning tragedy to triumph. I love sport: keen footballer, keen surfer and I'll try most extreme sports!
Not so good at: Quitting, heights, hard labour, cooking, singing and dancing!!