Jenny Perez
Fundraising & Communications Manager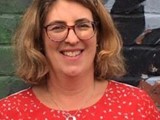 Responsibilities: My role is really varied, I cover lots of different fundraising streams, from grants and trusts to community, companies and also individual fundraising. My communications 'hat' entails keeping our social media channels up to date and sharing our news in many forms right across BANES and beyond.
Previous experience: I've worked in the voluntary sector for over 25 years – I love it ! Originally based in London working for high profile national charities like Marie Curie & Shelter, I moved to the South West in 2003 and have been CEO of a children's charity, run a literacy project in Bristol and latterly worked on mentoring programmes and facilitated a leadership programme for CEO's and senior managers in the South West.
Likes Mentoring Plus because: I admire the ethos and values of team members and young people are always at the heart of what we do.
Good at: Coming up with ideas & keeping connected with the outside world and using exclamation marks !!
Not so good at: Filing out those 'Are you a robot' questions on websites.