Helen Goodchild
Senior Practitioner – Volunteer Mentoring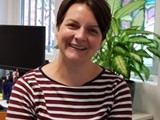 Responsibilities: I work with our 11-21 year olds, gaining an idea of their best hopes and what they'd like to achieve through being involved in mentoring, then matching them with one of our amazing volunteer mentors. I support both the young people and their mentors; making sure their experience is as positive and fulfilling as possible.
Previous experience: I grew up in Wiltshire and then moved to Bristol after university where I spent several years working in Social Housing before deciding to retrain as a Primary teacher. I taught for 15 years, working with children aged 4-11,  including 10 years in a school which specialised in supporting children with ASD and their families. Now I have two young children of my own so life is always busy!
Likes Mentoring Plus because: We are passionate and committed in ensuring all children and young people have the best opportunities to fulfil their potential.
Good at: Going with the flow. Naming dinosaurs.
Not so good at: Remembering people's names. Having a poker face.