Helen Goodchild
Head of Practice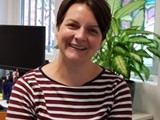 Responsibilities: I work with our practice teams to support work across the four practice areas:  Primary Volunteer Mentoring, 11-25 Volunteer Mentoring, Professional Mentoring and Student and Family Support. I am the Designated Safeguarding Lead for Mentoring Plus and the welfare and safety of our young people, staff and volunteers is very important to me. I also lead training with schools, mentors, young people and other professionals and I love talking about what we do at Mentoring Plus and how being a mentor can make such a profound difference to so many people. I'm lucky enough to mentor across our projects and being a mentor myself to different young people is one of the best parts of my role.
Previous experience: I grew up in Wiltshire and then moved to Bristol after university where I spent several years working in Social Housing before deciding to retrain as a Primary teacher. I taught for 15 years, working with children aged 4-11,  including 10 years in a school which specialised in supporting children with ASD and their families. I have two children of my own so life is always busy with clubs, friends and providing mum's taxi!
Likes Mentoring Plus because: The team at Mentoring Plus are so passionate about making a positive difference in the lives of young people and their families. Watching young people fulfil their goals and aspirations and exceed their own expectations is a humbling and powerful experience.
Good at: Playing games, drinking tea and eating cake.
Not so good at: Playing football.
Support our work
Each young person we support has a different story to tell - each one as powerful as the next.