Chris Hart
Volunteer Co-ordinator & Mentoring Practitioner Volunteer Mentoring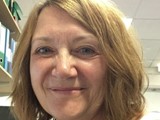 Responsibilities:  I am lucky enough to have two roles, which compliment each other perfectly! As Volunteer Co-ordinator I guide and support volunteer mentors through the whole application, recruitment and interview process, as well as keep in touch until they are matched with a young person. In my role of Mentoring Practitioner I meet and get to know the young people who have been referred for mentoring and then match them up with some of the lovely mentors we have trained. I then support the pair for throughout their year of mentoring and get to hear all the great stuff they've been doing!
Previous experience: 5 years' experience of volunteer management and over 20 years of working with young people in Somerset, Bristol and Bath. My work has mainly involved supporting young people in care and care leavers, in both education and community settings, to consider all their options and opportunities and believe they can achieve and make the changes they want.
Likes Mentoring Plus because: The whole team are so committed to the ethos of improving the lives of young people, and to supporting the amazing mentors who are involved in this.  My role combines my values and beliefs, and my working history perfectly.
Good at: Organising, listening and growing beautiful cut flowers.
Not so good at: Caving and fairground rides.
Support our work
Each young person we support has a different story to tell - each one as powerful as the next.