Becki Fox
Community Manager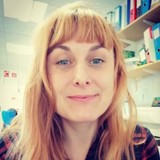 Responsibilities: To support the charity to run successful fundraising campaigns and events. To foster new community connections and corporate relationships. Raise Mentoring Plus's profile through social, media, events and PR. To manage our building hires, welcoming guests to Riverside and making everyone feel welcome!
Previous Experience: I have worked for a number of NPOs across the SW for the last 10 years. After relocating from Brighton my first job in Bath was for Bath City Farm, running the cafe and a community food growing/sharing project. I helped to deliver large scale exhibitions, theatre and dance productions as part of my role with Edge Arts. While completing my PG Cert in Arts Management I worked for Creativity Works, my role here was to support practitioners to produce and deliver arts and health related activities to help inspire and promote wellbeing in local communities. 
I am a trained yoga teacher who is passionate about making yoga accessible for everyone!
Likes Mentoring Plus Because: It is a child focused charity who treats each young person as an individual and takes a holistic approach to supporting them. It provides opportunities to inspire and empower young people to make positive choices in their lives. 
Good at: Roller skating and open water swimming.
Not so good at: Remembering to stock the office biscuit tin! 
Support our work
Each young person we support has a different story to tell - each one as powerful as the next.