Sarah Evans
Professional Mentor & Support Practitioner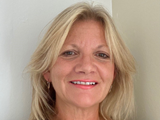 Responsibilities: As a mentor I go into schools and spend time with young people, getting to know them and helping them achieve their best possible outcomes. As a support practitioner I make sure the practitioners and mentors in our team have everything in place before they begin working with mentees.
Previous Experience: My first job was with the Variety Club Charity as a junior fundraiser, I've also worked as promotional copy writer for in-store magazines and PR for an auction house before moving to Bath.  My commitment to young people's mental health stemmed from my work in the pastoral team of a large boys' school. Here I was privileged to work with boys and their families helping them find solutions to their problems. I am a trained mentor and halfway through a 4 year course where I am training to be a counsellor. When I'm not working, I'm a Mum and I also run sustainable fashion pop-up shops and events with my friend Julie.
Like about Mentoring Plus: Belief in the work we do. When young people are struggling, for whatever reason, they are often surrounded by a team of professionals in lots of capacities working together to help them. As one of those teams, Mentoring Plus has a wonderful role, in being able to connect with those young people in a really positive way, walking alongside them and allowing them space just to be themselves, have fun and to enjoy some precious time away from their worries. The Mentoring Plus team are all 100% dedicated and the ethos of the company is highly professional, focused and caring. The very best thing however, is the young people themselves, who never fail to impress me with their amazing energy, resilience and humour.  
Good at:  Having a genuine interest in people, keeping calm in a crisis, embarrassing my family with my over enthusiastic penchant for Disco music, appreciating the benefits of mindfulness, yoga, and nature.
Not so good at:  Flying, ironing and early nights.
Support our work
Each young person we support has a different story to tell - each one as powerful as the next.