Deborah Magson
Mentoring Practitioner (SAFS)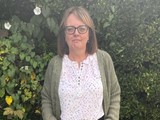 Responsibilities: I support young people to become more confident and to realise their own potential, both in school and the wider world leading to an improvement in their mental wellbeing and esteem.
Previous experience: Most of my career has been in the primary sector working as a teacher in lots of diverse settings. Born in Chippenham I went to university in Birmingham to train as a teacher and after spending a while working there, I moved to Gloucestershire where as well as teaching, I was a senior leader. After having my children, I moved back home to Wiltshire where I mostly taught in KS1 and years 3 and 4.
Likes Mentoring Plus because: I am able to continue working with young people who are our most valuable resource for the future. In addition, it is fantastic to be part of such a caring team who all have the needs of the young person firmly at the heart of everything they do.
Good at: finding the positives, advocating for all, learning harmonies and collecting anything with a 'bee' on it!
Not so good at: being cold, swimming and finding my way without a satnav.
Support our work
Each young person we support has a different story to tell - each one as powerful as the next.