Dave Joyce
Participation Practitioner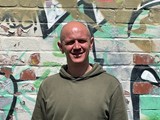 Responsibilities: Overseeing our participation practice, which includes Youth Club, Youth Club Plus, Girls' Group and Youth Reps
Previous experience: I am a qualified youth worker and have worked in the profession for over 15 years. This has included managing and leading teams to run youth clubs, schools work where I have delivered mentoring and group work. 
Likes Mentoring Plus because: We are always willing to listen to young people.
Good at: Being optimistic and positive and helping young people reach their potential. I have always enjoyed sport, so I always enjoy kicking a ball about and have run the London Marathon twice. Also, recently I have just started to learn the art of jujitsu. 
Not so good at: Sitting still for too long. 
Support our work
Each young person we support has a different story to tell - each one as powerful as the next.